Workshop for Two - Adana for Beginners
£

150.00 Sold Out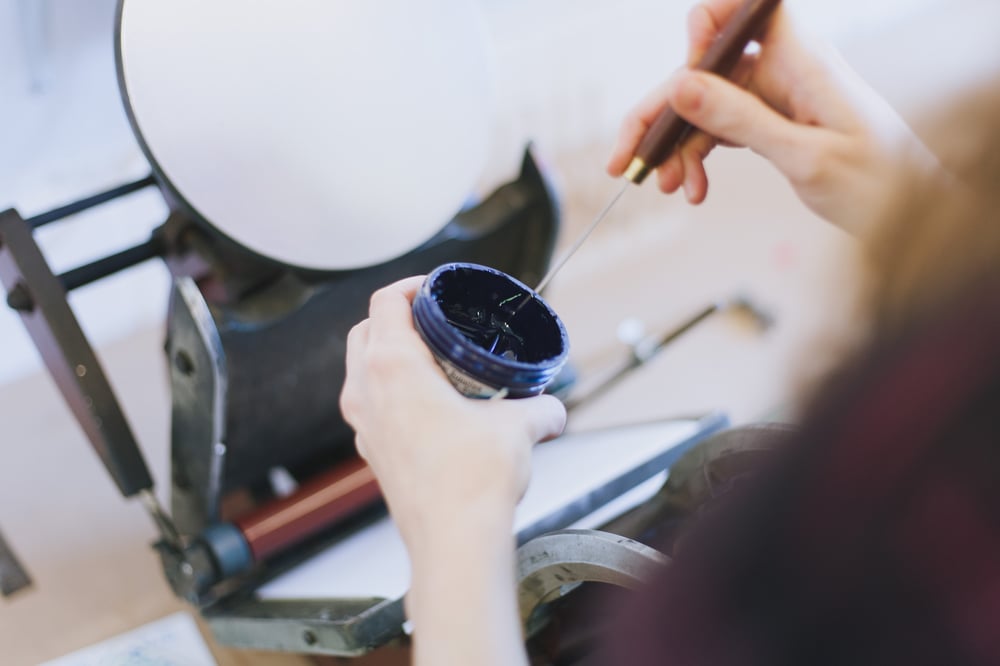 Wednesdays/Saturdays - 10am - 1pm
Stoneleigh, Epsom, Surrey.
Two People (£75 each)
A half day session, perfect for beginners. You will be shown how to use a traditional composing stick to typeset, ink mixing, and the process of makeready. You'll have the chance to print your own greeting cards, post cards, gift tags, or coasters using a range of lead and wood type and picture printing blocks.
At the end of the session you will have a range of your own beautiful letterpress products to take away! You can see reviews of my workshops on Google Maps (just search 'Inky and the Beast'!), and more photos from previous sessions on Instagram searching the hashtag #inkyworkshops.
Snacks will be provided. I'm 90% powered by biscuits but I'll supply some healthier bits too. Please feel free to bring a packed lunch if you don't like to eat too late!
Your order confirmation email can serve as your workshop ticket, but as long as you remember your own name, I'll probably let you in.
REVIEWS
Amelia: "I had the BEST time at my letterpress printing course. Jen is an amazing teacher - informative, friendly and funny - and she has the most delicious collection of type. I enjoyed my class so much I have bought my own press and with Jen's wise words ringing in my ears, been able to successfully print away on my own. I cannot recommend this workshop enough to someone interested in letterpress printing."
Kinda: "One of the best workshops I've ever been to!
I bought this workshop as a birthday present for my partner and we absolutely LOVED it. Jen is so friendly and welcoming - she made us feel right at home. We learnt lots and were able to create some really amazing prints. Jen was always so helpful (even with a follow up email about tips and resources!)."
You can see more lovely reviews on Google Maps (just search 'Inky and the Beast'!), and photos from previous workshops on Instagram searching the hashtag #inkyworkshops.
CUSTOM DATE
If none of the dates listed work for you, or you wanted a particular day for a birthday or celebration, drop me a note! I will squeeze you in if I possibly can :)
You can now buy a Workshop Voucher if you wanted to book as a gift! http://inkyandthebeast.com/product/letterpress-workshop-voucher-two-people-half-day-workshop
PLEASE NOTE: These workshops are not suitable for children under 12 (due to the strength and patience needed to operate the press), or those who cannot stand for long periods of time. If you have any questions about this please do drop me a note.
Cancellation Policy: Two weeks' notice is required for a refund, unless I am able to fill your spot with less notice, in which case I will always do my best to be flexible. Please email me on jen@inkyandthebeast.com
Share