Workshop - Print Your Own Design on The Beast
£

190.00 Sold Out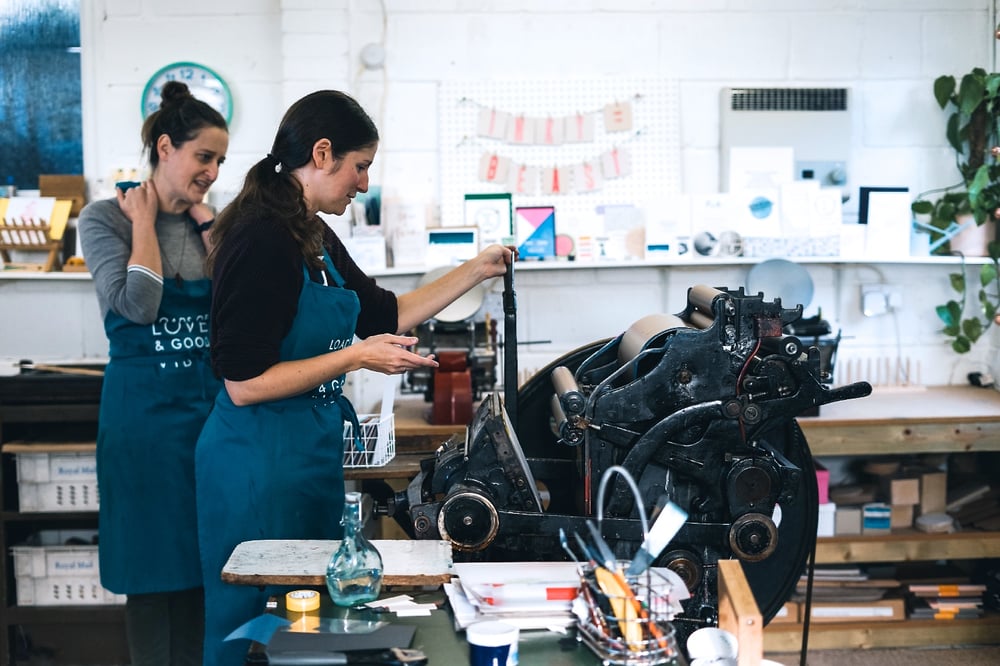 Wednesdays/Saturdays - 9.30am for 3-4 hours
Stoneleigh, Epsom, Surrey.
One or two attendees
Come along to my garden studio, and print your own design on the infamous Beast!
This workshop is perfect for creatives and design enthusiasts who want that luxurious, hand made feel to their work, and to be able to proudly say about their stationery "Oh that? Yeah, I made that myself. Nice, innit?"
YOUR SESSION INCLUDES
- Consultation on your design and needs in the run up to the workshop (email, and phone consultation if required).
- Adapting your own digital design into a photopolymer printing plate.
- Time in the studio - An introduction to The Vicobold (aka The Beast!), my large motorised printing press with the chance to mix the ink, set up the press and print your stationery yourself.
- Printing a single sided design, in one or two ink colours (or a split fountain - the art of blending several ink colours across the press at once).
- A run of 100 prints (greeting cards, swing tags, etc) on luxurious, white, pure cotton card. Soft enough to take a crisp impression, firm enough to hold as a keepsake. It feels, in technical terms, well lush.
- Advice on sourcing envelopes and any additional items you may need.
THINGS TO CONSIDER
Please only book when you have your finished design ready to go. I will feedback on any changes you need to make in order to make it work well with letterpress. If you're unsure of anything, please get in touch via the Contact page.
If you are after something a little different - more than 100 prints, more ink colours, or additional items - just drop me a note on jen@inkyandthebeast.com and I can tailor a workshop specifically to your needs.
On the day, snacks will be provided (I'm 90% powered by biscuits but I'll supply some healthier bits too), but please bring a packed lunch in case we are printing past 1pm!
Your order confirmation email can serve as your workshop ticket, but as long as you remember your own name, I'll probably let you in. I will send you directions and further details within a few days of you booking online.
You can see reviews of my workshops on Google Maps (just search 'Inky and the Beast'!), and photos from my Adana workshops on Instagram searching the hashtag #inkyworkshops.
CUSTOM DATE
If none of the dates listed work for you, or you wanted a particular day before a big event, drop me a note! I will squeeze you in if I possibly can :)
PLEASE NOTE: These workshops are not suitable for children under 12 (due to the strength and patience needed to operate the press), or those who cannot stand for long periods of time. If you have any questions about this please do drop me a note.
Cancellation Policy: One month's notice is required for a refund, unless I am able to fill your spot with less notice, in which case I will always do my best to be flexible. Please email me on jen@inkyandthebeast.com
Share